This German built racer-cruiser keeps the sailing simple
By Robert H. Perry - Sailing Magazine
Originally published July 2, 2022  
We can have some fun this month comparing two new European production boats that have almost the same LOA. As you would expect, both boats are in the "contemporary" style. I'm inclined to use the term "Euro" to describe the style but I have been chastised in the past for using that term. "Contemporary" should keep everyone happy. They are both sleek and good looking boats that combine comfort with performance. This is a very common theme today.
What I find missing, and it could be a function of my age—I was 26 years old when I began writing these reviews and I'm almost 76 now­—is the diversity of styles we saw in the mid-1970s and earlier. In most cases you could look at a new design and instantly know who the designer was. Each designer had his own style. You would never confuse a Bill Lapworth design with a Bruce King design or a Bill Tripp design. Each designer had a signature style that set the boats apart.
Today, with far more science applied to yacht design, much the same as with automobile design, the personal, subjective design touches have given way to solutions determined by computer generated VPPs. Designers use the same programs to analyze their designs and they come up with the same or similar answers to design questions. Imagine, just for fun, Bill Garden or L. Francis Herreshoff using a VPP program. What a shame that would have been. Imagine Arnold Palmer or Lee Trevino having a golf swing determined by "science."
The Dehler 46, designed by Judel/Vrolijk, has a beamy hull with beam carried aft and an L/B of 3.19. Boats are getting fatter. They offer three versions of this model: standard, competition and short keel. The D/L of the competition model is 145. For the standard model the D/L is 149 due to 772 extra pounds of ballast.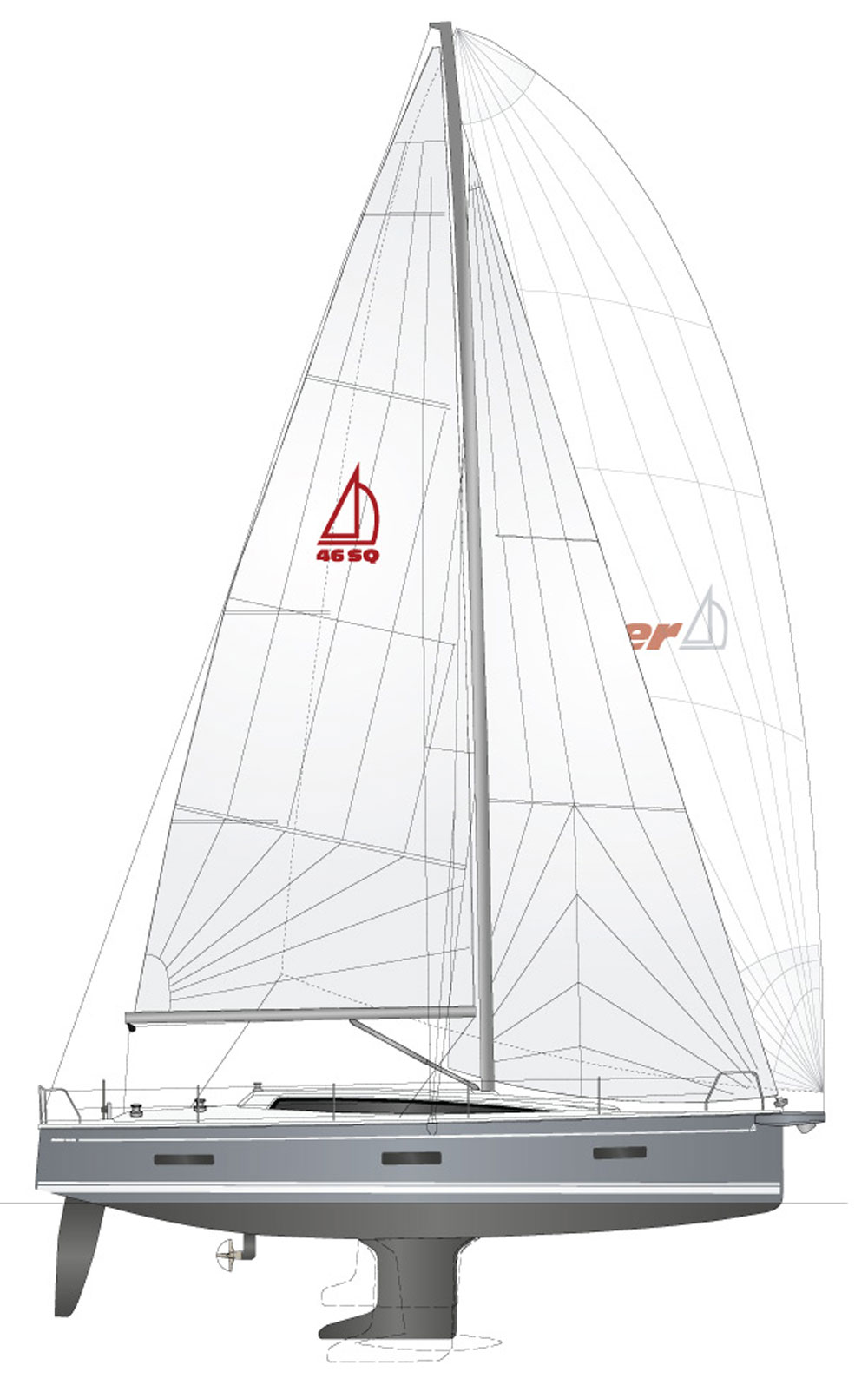 The three draft options are 7 feet 5 inches for the standard model, 8 feet 6 inches for the competition model and 7 feet 1 inch for the short keel version. Not sure what chopping 4 inches off your draft buys you. The keel for the competition model is a fin with a bulb.
I don't have anything that indicates hull shape for this design. I have a profile sailplan and a cryptic interior layout. That's it. I found the boat on the Dehler website. There is no chine. LOA is 49 feet. LOD is 45 feet  9 inches. You will pay more in slip fees with that sprit. More on that later.
Let's go below. I suppose ergonomics is kind of a science. The numbers  based on the dimensions of the human body are not hard numbers though. They are guidelines to be used based upon subjective priorities. Dehler has two layouts for the 46. They are almost identical. The only difference is how you treat the port side of the main cabin. You can have a conventional settee with a small nav station forward or you can break the settee and have the nav station aft. There are mirror image quarter sleeping cabins. You can have a double berth in each cabin or you can split the double berth to port into a "scissor berth" configuration giving you two tight single berths.
There are two heads and the aft head has a shower stall. The galley could use more counter space but not without losing the area you need to get to the aft, starboard quarter cabin or the U-shaped dinette. It's always something.
The sailplan shows a tall, fractional rig with swept spreaders. You could consider this type of setup the standard rig for 95% of the production boats built today in this size range. Why? It works. You get rid of that pesky genoa overlap and enjoy the convenience of a low LP jib. The SA/D for the standard rig is 23.28 and for the Competition rig 25.59.
The deck plan shows a flop down boarding platform that hinges up into  a recess in the broad, flat transom. Twin wheels make access to the boarding platform easy.  There is an optional arch that bridges the companionway and allows you to get the mainsheet out of the cockpit. I'm not sure what you do with the mainsheet if you don't go for the arch. The cockpit looks huge.
This is a good looking boat that with the competition rig should keep racers and cruisers happy.
LOA: 
LOD: 
DWL:
Beam: 
Draft: 
Standard: 
Competition: 
Shoal: 
Ballast:
Standard: 
Competition: 
Shoal: 
Sail Area
Auxillary: 
Fuel: 
Water: 
L/B: 
D/L
SA/D: 
49' 
45'9" 
42'4"
14'4" 
-
-
25,353 lb
24,691 lb 
26,235 lb 
-
1,256 sq. ft. 
1,365 sq. ft. 
57-hp 
55 gal. 
119 gal. 
3.19 
-
-